Adult Webcam– A business concept to broadcast live erotica and generate money charging percentages from the models. It seems to be a lucrative business opportunity that might bring you a lot of money.
There are few things in business that are more difficult than running a webcam-modeling service. A webcam firm may be simpler to establish than promote, as anybody who has worked in the adult sector will attest.
While it is genuinely a money-making machine, it's tough to beat the heat & take the webcam site to the next level when everyone else is attempting to do the same thing.
Do you know how to promote a webcam website?
The difference between companies that employ cutting-edge adult cam software has hundreds of models on board. Still, they lack clarity in their marketing tactics. The key is those firms that pick the proper adult cam script in favor of marketing prospects that generate money. When it comes to webcam marketing, firms producing money know how to concentrate on the most critical areas instead of re-inventing the wheel.
Due to inherent limits in the available marketing chances, businesses make a lot of errors in the early stages of their development. These mistakes eventually impact their advertising feasibility and then their revenue streams. One such example is the selection of an inappropriate adult webcam software script. As a first step, make sure that your website can handle the most cutting-edge marketing practices.
This is a post for you! If you're a new website and trying to figure out how to attract traffic to your Adult Site regularly, this guide is for you. I'll show you how to market an adult webcam site effectively. Watch your earnings soar as you master the most acceptable methods and strategies for attracting free visitors to your webcam site.
Chaturbate is one of the most popular and well-known adult cam sites. You'll have to put in the time and effort to get them out there. Creating and advertising the most excellent webcam site requires hard effort. You can count on a high conversion rate when dealing with high-quality traffic.
It's time to face up to the truth! Marketing an Adult Company is more complex than marketing a Non-NSFW company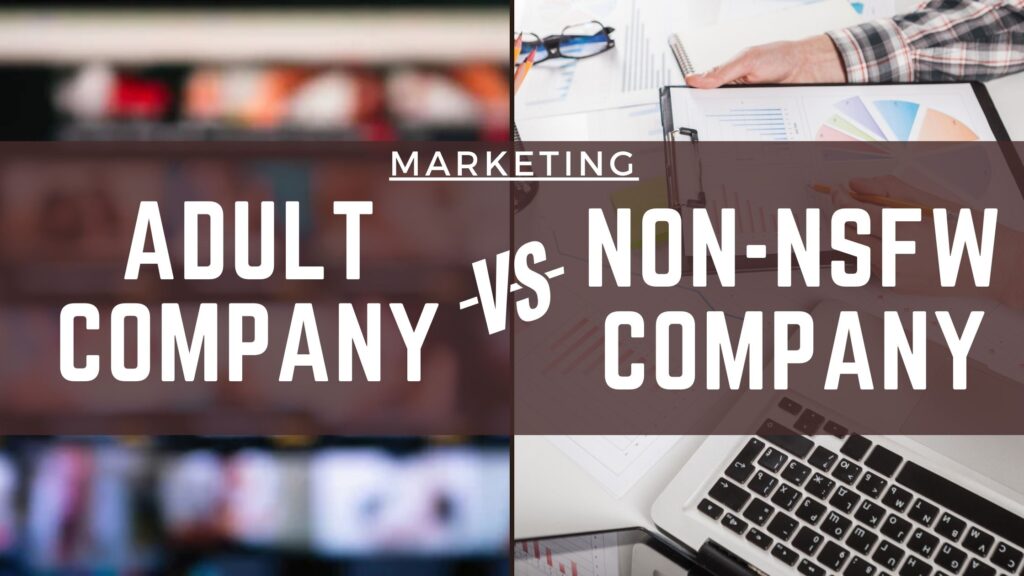 When it comes to reaching your target market and promoting your products, online marketing is unbeatable. Every firm understands how to utilize internet marketing channels, including social media, email, notifications, search marketing, banner ads, and video ads.
On the other hand, adult webcam businesses need a different approach to internet marketing. Even in the mainstream media, how-to guides on starting a webcam studio are distinct from those promoting the same. NSFW promotions aren't allowed on most popular social networking platforms, Google Ads, Search Advertising, YouTube, or other media. Adult-friendly marketing channels are few and far between. You'd get kicked from the site if you tried to promote your webcam company there.
In my opinion, mainstream media may be used to promote adult enterprises, provided you are cautious and use specific tactics. However, this does not rule out the use of more traditional forms of marketing. Although many adult-targeted channels exist, mainstream media are still necessary for the entire development of the adult market.
Promoting adult cam sites on social media platforms
Marketing adult companies using social media are classified into three main areas. " Don't use the same method across platforms, but instead adjust it to its specific features and restrictions.
When it comes to marketing your company, I don't suggest using sites targeted toward adults. Even if it seems contradictory, there is an excellent explanation behind it.
Social networking sites for adults are all independent enterprises. They are more like rivals than you, and most crucially, they're high-end. As a case in point, consider OnlyFans. This specific platform has its models and operates pretty similar to yours. As a result, it's tough to get exposure for your company in such a setting. However, if you believe you can improve upon it in any manner, go ahead and do it.
Using popular social media networks, which I've divided into categories of partial and not-so-friendly, is your most fabulous shot for getting your message out there. Facebook & Instagram are "not-so-friendly" platforms, according to some. For example, partially friendly platforms include Snapchat, Tumblr, and YouTube, which accept NSFW content with some restrictions.
You may utilize any medium as long as you go by the rules set out by the service provider. While nudity and explicit material aren't the only ways you may convey your message, you can experiment with other innovative methods. The only recommendation is to label your postings as either 18+ or NSFW, depending on the platform's features. It will guarantee that adults only see your posts.
1. Using Reddit to promote an adult video site
The social networking platform Reddit is distinct from the others discussed below. Subreddits are populated by many serious individuals who follow them based on their interests. To get the most out of Reddit, you must first understand what not to do on Reddit.
Ask your models to develop their Reddit accounts in addition to your brand's presence.
Subreddits are a great place to connect with people interested in your product or service.
It's possible to post NSFW material on Reddit. However, there are certain restrictions. The first step is to label your own and your models' subreddits as NSFW. One of them exclusively posts NSFW content on subreddits with the corresponding label. And although Reddit is an adult-oriented site, you might still be blocked from subreddits that are not.
In addition, Reddit operates on "Karma," which can only be gained by participating in Reddit's daily activities. Make some posts and get some upvotes on them to help you build your karma. You don't have to stick to NSFW subreddits if you want good karma. Engage with other Redditors by up-voting, down-voting, and commenting on their posts. It's all about blending in and not becoming a blatant marketer.
You may now begin in-direct promotions after you've blended and built up some good karma. Using Reddit to promote your social media accounts is a great way to increase traffic. The site and subreddits have their laws and restrictions, so be aware of them. Request that your models invite their followers to post pictures of themselves with a link to the models' social media accounts. Models' social media presence makes it simpler for them to attract traffic to your platform.
2. A press release and an adult video website SEO
To keep things simple, I've grouped press releases & adult SEO. While a very healthy press release may help you get your message out to a broader audience, adult SEO can help you get better search engine rankings. Brand recognition and linkages to credible sources for generating traffic are both boosted by this strategy.
Pornographic SEO is much the same as standard SEO, only that you'll need to solicit link-backs from adult sites. Other than that, make sure that your adult webcam software is SEO friendly and has all of the tools you need to optimize for the search results: meta-tags and descriptions and CMS, for example.
3. Promote your videos on adult video-sharing sites.
Traffic to adult tube sites is soaring because of the abundance of free material available. You may use Xvideos, Pornhub, Youporn, xHamster, and other video-sharing sites to boost traffic to your website. By posting part of your material, you'll not only get more visitors, but you'll also earn more money. Adult tube sites, like YouTube, share ad money with the content creators.
As soon as you've set up a channel on one of the more well-known video-sharing websites, you can begin posting films with watermarks that provide links to your website in the description. People who see your movies will learn about your company and come back to your website to see more content just like it.
The following are the most effective methods for attracting targeted webcam viewers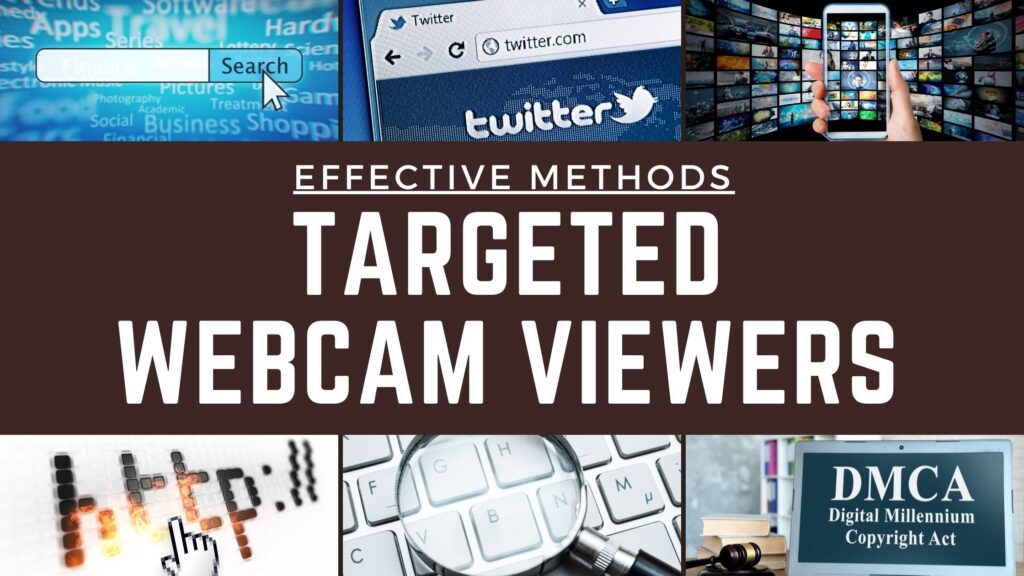 1. Traffic from search engines
Suppose you want to get found by the search engines. In that case, you must constantly submit high-quality material (posts) and target specific keywords. Posting regularly can help you get more organic visitors. For your articles to rank well in search engine results, you need to use keyword-rich, original material. If it lacks high-quality content, you can't expect your site to rank, so be innovative and think outside the box. It'll all be worth it in the end.
2. Twitter
It's the most refined social networking platform to acquire free visitors to your live-streaming camera. Post photographs of gorgeous random females or people with the caption "Watch me fucking my dildo" or "Click here to watch me naked on cam" to your Twitter feed. Use appropriate hashtags such as "#Sexy #Livecam #Cam #Hot" to attract eager surfers.
3. Video uploads with watermarks might also help you get some traffic
Make sure your video has a catchy title, appropriate categories, and relevant tags so that it may be found on search engines like Google. Amateur films with watermarks may be uploaded to adult video tubes to accomplish this goal. Avoid violating any copyrights by posting your videos or, at the very least, uploading a video of a random female masturbating. If you're caught stealing from sponsors' material.
4. Set up links on your porn sites to your affiliate code
Placing advertising or text links to your other porn sites is as easy. You may use this strategy to promote your large boobs porn site: Find several big-breasted cam females, write about them, and link to their chatrooms. You may do the same with a white label.
5. Creating a Name for the Videos
Humans create search engines. It's no surprise that search engines can't tell between different types of videos. The titles of videos are significant to search engines or crawlers. You should ensure that the titles of your videos are keyword-rich. 'brunette' and 'blowjob' are examples of keywords.
You can guarantee that this video will rank higher in searches for the terms "brunette" and "blowjob" on your adult website. In place of video 1.mp4, use brunette-giving-a-blowjob.mp4 as the video file's name.
Make sure you use the same naming scheme when uploading images to your website. To make the names easier to read, lowercase letters are recommended. The use of dashes to separate words is also advised.
6. Look for new keywords to target.
Adult video SEO is all about finding new keywords to target. Aim to appropriately represent the substance of the video in the title, Meta description, and any other associated information. I'll provide an example to demonstrate what I mean. "Brunette giving a blowjob" was referenced in one of the previous paragraphs.
This video will appear in the "blowjob" and "brunette" categories. Alternate title: "brunette sister giving blowjob" is OK. This has two advantages: First, it's more likely to show up in searches for "incest" videos.
7. DMCA complaints and content theft
Managing DMCA complaints and pirated material is one of the issues of video SEO. Make sure your movies are watermarked with the URL of your website to prevent them from being stolen. Watermarking your videos will make it evident that they belong to you. Watermark helps you establish your identity and brand.
Keep your eyes peeled for suspicious activity. If it weren't for this, your premium films might be stolen and repurposed as free movies on other sites. A surge in traffic and popularity may lead to an increase in traffic and popularity. Use the Cam Model Protection tool to combat cyber-pirates and DMCA accusations. It's packed with high-end features at a reasonable cost. Even though this is a required expenditure, it will pay off long-term.
These are the most important marketing channels to use while doing internet marketing. As a result, your competitors will have an easier time gaining an advantage over you if they don't pay attention to these channels.
Final Words
Online promotion of your webcam site requires methods mentioned above. As a supplement to your primary marketing initiatives, you may employ a variety of alternative media and tactics. Model affiliate networks, sponsored ads on tube streaming sites, email campaigns, an influencer with adult stars, and so on are just a few options available to you. Hence, promote your adult webcam site efficiently to stand out in the adult entertainment industry.